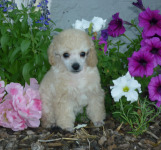 To anyone looking for a quality-bred toy poodle, I highly recommend Rainbow Toy Poodles. The entire experience exceeded my expectations!
Connie Halcom is knowledgeable and honors the integrity of the breed in every possible way. Seeing her facilities integrated into a family home environment was amazing. She has a very large side yard run with total shade, a huge main yard and a long shaded patio, and even a grooming room! Every inch of the property was clean and well manicured. There are entrances and areas to provide for each stage of life and for integration into the family and with the resident poodles ensuring a social well-adjusted dog. The level of professionalism extended from the initial call until after we returned home in Kentucky was first class all the way.
When I came to pick up my poodle I had the opportunity to meet about a dozen of her poodles including my baby's mom. Every single one was social and playful and healthy. I sat down and was greeted by the cutest, most well-adjusted group I have ever seen. I know where my poodle's great disposition comes from. My girl is fun, confident, and funny, yet can relax and calm down easy as well. She is training remarkably fast and is intelligent and has the true poodle personality that I adore.
I have had toy poodles all my life and have seen first hand the heartbreak bad breeding can bring. If you are looking for a show poodle or a new best friend (as I was) who has the best chance of good health — then look no further!
Best,
Shari H (Kentucky) a client for life!