Poodles need to be groomed on a regular basis. A good rule of thumb is every 6 to 8 weeks. Waiting longer than this, a poodle can become matted. This make the grooming process harder on the dog (and the groomer). Below are some helpful hints I recommend with the grooming process.
Brush: The right brush is important. Most slicker brushes on the market are too harsh for the poodle coat. I recommend the "Doggie Man" brush. You can order it from the "must haves" page, or you can usually find them from a vendor at a dog show.
Shampoo: Pamper your precious pet with Revitalizing Shampoo. The revitalizing botanical infusion of organic rosemary and sage, along with nourishing essences of coconut and palm kernel oil, will naturally cleanse and beautify your pet's coat as the luscious scents of mango and kiwi, mingled with energizing citrus notes to bring out natural shine. Its moisture-activated odor fighters react immediately to absorb and neutralize tough pet odors. You can order it at www.BetterPets4You.com.
Oral Care: Brushing your dog's teeth each time you bathe them is a good thing. Use a good stiff tooth brush, with just a tiny bit of Colgate tooth paste with peroxide. It will save money in teeth cleaning bills in the future (and prevent teeth from needing to be extracted). Use a softer brush for puppies and young dogs. Oral care maintenance, just like for humans, is important to maintain your dogs healthy teeth and breath. DON'T FORGET THE TEETH!
Ear Care: It is important to keep the hair out of the ear canal. When moisture gets in the ear when there is a lot of hair, bacteria builds up and ear infections can develop, such as yeast. The product that I have had the best success with is called Life Abundance Ear Care Formula. It is a terrific ear treatment for problem ears. You can order it at www.BetterPets4You.com This is a wonderful product. Remember, ear problems can sometimes also be caused by corn, wheat, soy and gluten that is found in most pet foods. Getting your pet on the right food will make a big difference in ear health and skin allergies.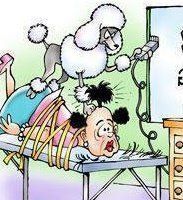 Why Your Haircut Costs Less than to Get Your Poodle Groomed
1. The likelihood of you pooping on the hairdresser is pretty slim.
2. You don't bite or scratch your hairdresser.
3. Your hairdresser only washes and cuts the hair on your head.
4. Your haircut doesn't include a manicure or pedicure.
5. You sit still for your hairdresser.
6. Your hairdresser doesn't remove the boogies from your eyes.
7. Your hairdresser doesn't clean your ears.
8. Your hairdresser doesn't give you a sanitary trim.
9. You don't go eight weeks without washing or brushing your hair.
10. Your hairdresser doesn't wash and clean your rear end.
Poodle Revenge