"Jewels" is a very nice red girl. I was holding her back as a show prospect but she didn't quite make the mark so I am sadly letting her to go be loved an adored by someone else. She sleeps all night and is good to go on a potty pad and not in her bed. She runs up and down the stair and is learning new things every day and is very obedient. She has more the dry eye which keeps her looking great. She is a good eater and is good to be groomed on and brushed. She is a "Jewel" as her name implies.
Her date of birth is Dec 15, 2022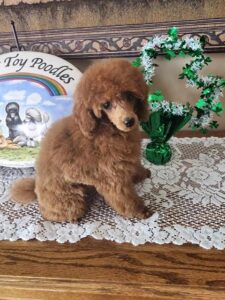 If you are interested in adopting Jewels or have questions about her, click the Contact Us tab above.