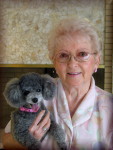 February 2016
I had been looking for a little poodle puppy online for sometime; but, none of the ones I went to see impressed me at all. I had just about given up on getting one until I came upon Connie's website, Rainbow Poodles. I went out the following day to meet Connie and see her poodles. What a wonderful experience I had from the moment I pulled up in front of her lovely home, surrounded by flowers and a beautiful manicured lawn. Connie so graciously welcomed me into her home, and the poodles that followed her were beautifully groomed and so friendly. I would have been happy with any one of them. I was looking to get a little red poodle puppy. Connie didn't have any at that time; but, she was expecting a litter in 3 months. I left happy with the thought of getting a red puppy from that litter.

Well, two months later Connie called and invited me to come over to see this little seven-week-old silver poodle puppy that she had. I will be forever grateful to Connie for making that phone call. When I walked into her home, I saw this tiny, newly groomed, silver puppy prancing across the floor. I thought she was the cutest thing I'd ever seen. I decided to do a quick puppy test, just for fun, so I took out my car keys and tossed them on the floor making a loud noise. I wanted to see if she'd run to hide or run away, but come back to investigate. Well, she did neither. She went right over to the keys, picked them up and brought them to me. I was amazed, and she passed the other tests with flying colors. I fell in love with this little poodle and I knew she was meant for me.
Tootsie has been an absolute joy to own and so quick to learn. She loves her balls and toys and is a natural retriever. She has a strong "prey drive," but never chases any birds or animals, only her balls and toys when I throw them. She also learned to ring a bell to go outside to potty and she generally takes her ball or toy out with her. Tootsie is a certified Therapy Dog and she goes with me to hospitals and care centers to visit the patients and brighten up their day. It is such a rewarding experience for us to do together.
I can't believe this little, 4-pound bundle of joy is now 10 1/2 years old. Everyone that meets her can't believe it either. She still looks and acts like a puppy. I have enclosed a recent video of Tootsie so you could see her having fun doing her tricks. If you are considering getting a toy poodle, look no further. Rainbow Poodles are the BEST. I know, because I have one.
Mary Ellen Silver
Holladay, Utah