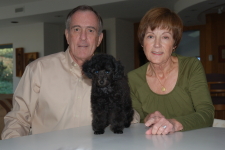 Dear Connie…
Thank you so very much for assisting us with our search for a "genetically tested" healthy toy poodle puppy with such a wonderful temperament.
The loss of our Nugget, our previous toy poodle, that was caused by a nasty accident due to his near total blindness which was the result of the inherited gene progressive retinal atrophy (PRA), was a heartfelt loss we were determined to never experience again.
Your insightful explanation that Rainbow Toy Poodles is a personal passion whose aim is to breed the best toy poodles possible through very careful selection of sires and dames which exhibit optimal physical and temperamental characteristics while having passed essential genetic tests to screen out important health issues…was most helpful.
Interested parties reading this testimonial should know that I flew to Salt Lake City from Atlanta to pick up "Bandit," one of Connie's inky black male puppies, and personally confirmed everything we had discussed by phone…all of her puppies are raised in a "home" environment…no dog kennel business conditions…or worse—no puppy treadmill atmosphere where the females are basically caged until they are too old to profitably breed. All of her dogs have marvelous temperaments…have been genetically tested, have AKC Champion pedigrees, are bathed and groomed with meticulous care…are incredibly playful…have a fenced-in large backyard to play…are obviously raised in a loving environment.
Let there be no doubt that if you are looking for the highest quality toy poodle puppy, Rainbow Toy Poodles should be at the very top of your list. I carefully searched the internet…made dozens of calls to prospective "Breeders of Show-Quality Toy Poodles"…passed them all through a series of test questions…and ultimately made a personal visit to Rainbow Toy Poodles to confirm my conclusion. Anyone wishing to contact me about Connie's toy poodles should please ask Connie for my phone number and I will be happy to answer your questions.
Fred Everett
Marietta, GA