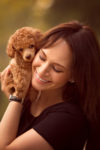 If you have stumbled upon this website looking for a toy poodle, you are so fortunate! Prior to having found Rainbow Toy Poodles I did much research on toy poodle breeders in Calgary, Alberta and the surrounding area. Once I spoke to Connie Halcom over the phone I knew my search was over.
Connie made the whole process of purchasing one of her poodles, "Winston", as effortless as can be. She has been available to answer questions the entire time I've been in contact with her, both before and after the purchase. She made sure "Winston" was fully groomed, socialized, and healthy, before allowing me to take him to his new home in Canada. The biggest thing I noticed that differentiated Connie from other breeders is that she cares. Not only does she care deeply about every one of her poodles, but she also cares about maintaining a good relationship with each and every one of her clients. I have nothing but respect for Connie, for doing what she does so well. I receive so much positive feedback regarding Winston's appearance and his temperament whenever I introduce him to someone new. Not only is he incredibly intelligent, but he also bonded with me immediately, as his new owner, upon bringing him home.
I would recommend Rainbow Toy Poodles to any one of my friends and family. Thank you so much Connie, for allowing me the gift of being a part of your Rainbow family!
Dinora Santos