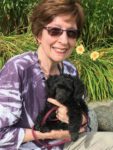 Hi Connie: July 2018
Lucas and I want to thank you for bringing us together. Lucas is a beautiful Rainbow Toy Poodle puppy. He is a very intelligent little fellow with a beautiful coat. He is eager to meet and greet everyone who enters his world – people and other canines alike.

Everywhere I go people stop us to admire this beautiful little pup. Last week another poodle lover double parked their car and crossed the street just to meet Lucas.
As you know, when my toy poodle Winston passed last year, I was unsure about where to find a new canine companion. I was about to give up my search when I discovered your website. In addition to providing detailed information about your beautiful toy poodles, there is clear information about health screening as well as super resources on raising and training your puppy. Your puppies have impressive international champion pedigrees.
I especially appreciated how responsive and available you were to answer my questions and, when it came time to purchase, how organized you were with the paperwork, vet checks, AKC registration and solutions to any problems that cropped up.
In my many discussions with you, I came to know that toy poodles are your passion and it has been a pleasure to work with you.
Very best wishes to you and Rainbow Toy Poodles!
Dianne Garrett
Canada