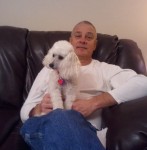 Dear Connie,
I would like to say thank you so very much for contacting me about the sweetest 6-year-old toy poodle ever. I have only had her for one week now, but she has adjusted to me and my home like she has always been with me. Thank you so much for all the phone calls and answering my numerous questions. I searched for the perfect pet for several months, and after contacting you at Rainbow Toy Poodles, I have found that pet. I have also found a wonderful friend. You were so helpful and knowledgeable about everything regarding poodles.
"Carrie" is the sweetest dog and one smart little girl. She is right with me wherever I go. Everyone that has met her so far has fell in love with her. She has been well trained and and is very obedient and loves to go for walks. She is a great little bed dog as well.
This was the first time purchasing a pet over the internet and I was very hesitant about some of the websites that I researched. I would highly recommend Rainbow Toy Poodles to anyone looking for a great poodle. I will be happy to talk with anyone that might have a question regarding purchasing a poodle from Connie. Please contact Connie for my phone number.
Thanks again Connie!
David Buck
Tennessee