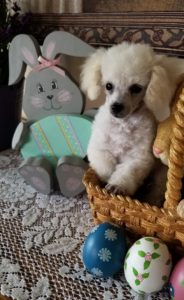 "Parker" is full of cuteness, a little fluff ball of fun. He is very playful and oh sooo sweet. Loves to snuggle and chew on his bully stick while sitting on someone's lap. He is learning to climb stairs and loves to run in the yard with his brothers. He sleeps through the night with no problem. He will remain on the smaller side and will be super easy to travel with–he will be lucky to make it to 5 pounds. DOB February 4, 2020.
Sold to Kathleen of Park City Utah

If you are interested in adopting little "Sterling" click the Contact Us tab above.