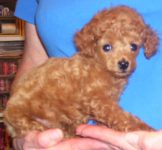 "Dexter" is a tiny little red guy. He Weights 1 1/2 pounds at 8 weeks of age. However he thinks he is a big boy so does everything the older pups do. He is a good little eater and loves to run up and down the hallway chasing a ball. He loves to play with his toys and sleeps through the night. He has been vet checked and is in excellent health. He is ready for that forever family. Due to his size he will need to go where there is no small children in the house. DOB September 18, 2018

Sold to Jane Ryan of St. George, Utah

If you are interested in adopting "Dexter" or have questions about him or any other of our poodles, click the Contact Us tab above.
.