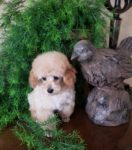 "Jaxon" is a very fun loving little boy. Playful but yet mellow. He will make a great pet companion dog or a great therapy dog. Jaxon has a very thick coat and black pigment and is a striking little boy to look at. He has been vet checked and is ready for adoption. He has had his first shots. He will make a great little pet companion dog for a family with older children. He loves to chase leaves in the yard when the wind blows them around. He gets along with dogs bigger and smaller then himself. Just a great all around little guy. He knows how to climb stairs and sleeps through the night with no problem. He will mature to around 4 to 5 pounds. Darling little boy 🙂
DOB:September 4, 2017 Sold to Kili Devine of AZ

If you are interested in adopting Jaxon,or have questions about him or any other of our poodle puppies, click the Contact Us tab above.